South Plant Expansion
Construction of new facilities to improve wastewater treatment and enhance ability to process phosphorus
Recently revised IEPA guidelines require Fox Metro to further improve its award-winning wastewater treatment facilities and enhance its ability to process phosphorus. Consequently, Fox Metro has built a new South Plant facility on existing District-owned land.
The EPA has tasked Fox Metro with reducing the level of phosphorus in the river by 2019. Phosphorus enters the watershed system through fertilizer runoff from farms and lawns, and from human waste through wastewater, which Fox Metro then receives and treats. Within four years, the new plant will eliminate 67 percent of phosphorus in Fox Metro's discharged water.
Phosphorus is a nutrient that depletes dissolved oxygen in water and may cause offensive conditions, such as algae blooms. The Fox River is part of the Mississippi River watershed, the fourth-largest river system in the world, which flows into the Gulf of Mexico. There, impaired water contributes to "Gulf Hypoxia," or low-oxygen zones. The water in these "dead zones" does not contain enough dissolved oxygen to support marine life. Removing more phosphorus from all Mississippi River tributaries may help alleviate Gulf Hypoxia and improve the ecosystem for aquatic plants, animals and other organisms within the Fox River and the entire Mississippi watershed.  Illinois NLRS biennial report provides more information on Illinois' wastewater treatment plants and our role in reducing nutrients in local waterbodies.
Construction began in early 2016 and the South Plant was operational in Summer 2019.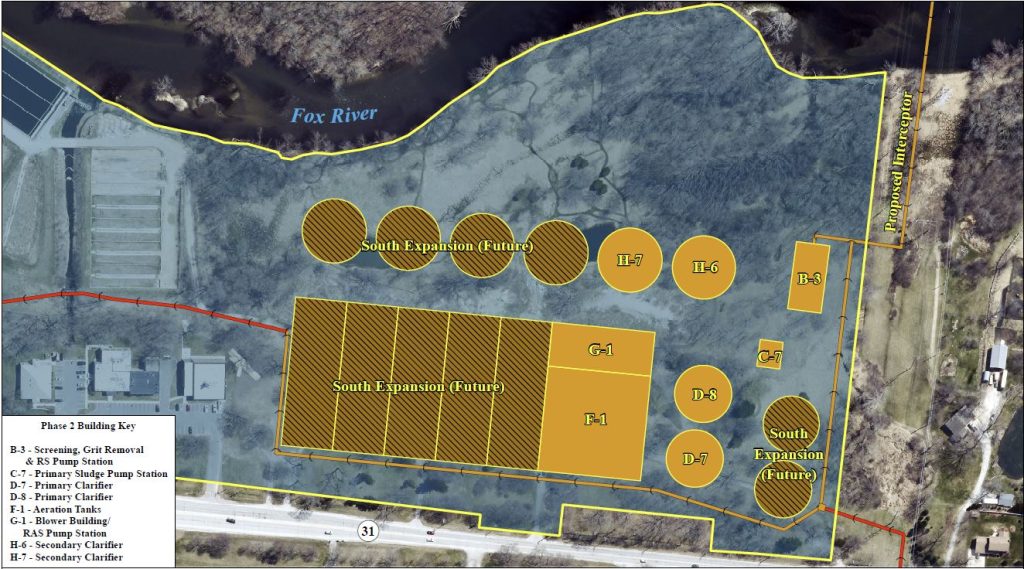 To view a construction slide show, follow the link:  https://www.truelook.com/tl/app/?u=fw1461159073